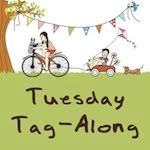 I've learned a couple of new things lately. Mostly about my son Jack and I. For the past 8 weeks or so, we've been going to Kindermusik. One of the moms in play group is the instructor. The first couple of weeks were a bit rough. But, I thought it was because other than daycare, he had never been in any sort of class environment. Then he became friends with some older boys. Once he started sitting by them, he was doing really well. I was even considering putting him in a head start program we have here for 2 and 3 yr olds. But then it's just gone downhill. I even brought his Dad with us hoping that it would help. Nope. It just made it worse. We had our last class last night and he did pretty well.
The whole time he was acting up, I was so worried about what the other parents thought of my son and my parenting. It took many weeks of me venting to my friend who was in the class. She told me not to worry about it. He's only 2 ½ and he is doing well for his age. I couldn't get past it. I thought for sure that he was the only kid acting up. I finally came to realize that he may be the only one acting up, but the parents were not staring me down like I had thought. Once I realized that, I was ok. I just wish it didn't take me so long. I probably would have enjoyed the class much more. After taking a look around, I also realized that Jack may be the only one acting up because the majority of the class was full of 4 yr olds.
So, I learned that what I think is bad is not as bad as it seems. I also learned that I shouldn't care what other parents think. I only see these people for 45 minutes every Monday. It's actually liberating in a way. I feel like I don't have to come off as the perfect parent and my son, who was acting good for his age, doesn't have to be the perfect little boy.
The instructor is having two more classes this summer. I'm pretty tempted to enroll him again. Although he may not be completely ready for head start, I think having him in the environment of music class will lead him in the right direction.