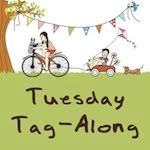 I'm wonder what has become of me. I think becoming a Mom has changed my thoughts on many different levels. Randomly, I will think about something and then realize that 3 yrs ago, I would have thought differently. Maybe it's being a Mom or since I'm getting up their in age (29 LOL). Here is a perfect example.
Friday night, I noticed that my upstairs neighbors were sitting in their car. It wasn't running and it was 90 degrees. My first thought was, that's dumb. They sat in the car for at least two hours. I went outside every couple of hours from 6 pm until 11:30. They were out there the entire time. I swear every time I went, there was one more person added to the group. What's really funny to me is that none of the guys had shirts on and the girls had short shorts and skanky tops. By midnight, they were hanging out on the front steps of our building. What? They were outside doing nothing for at least six hours. I kindof got the feeling that maybe the BF of the girl who lives upstairs wasn't wanted inside her Mom's apt.
Now, a few years ago, I would have been like, OMG! What losers! I would then move on with my life. Not this time.
It is against the rules to work on cars in the parking lot. My first instinct was to call the office and leave a message about the hoodlums that were hanging out in the parking lot. But, I didn't. Then when they moved to the stairs and started getting louder and throwing out TONS of cuss words, I again felt the urge to call. I kept thinking, we pay far too much rent to have our building look trashy with all these half naked people hanging out. A few years ago, that point never would have crossed my mind.
We also have a few little kids who are running around the complex. Our apartment is made up of 12 separate buildings and each building has 6 apts. There is a ton of people and I would not let my 3 yr run around like they own the place. Just the other day, I about saw a little boy who lives 3 buildings down almost get hit by a car. Before having Jack, I would have felt some negative feelings towards the parents. Now, after having my son, I want so badly to go up to these parents and tell them how to handle their kids. Fortunately,I can control myself. I thought about calling the office and then having them put a friendly reminder in the monthly newsletter about the rules for kids. I told my neighbors about it and this was their response: "It's really bad that the office would have to put something in the the newsletter that said, Hey! Remember that you have kids!" I thought it was so funny they way he said it.
So, I can't decide if my new views on things are due to being a mom or just because I'm getting older.
What is one thing that you have changed your mind about since having children or getting older? I'm really interested in seeing in mine are the same as yours.