I love that I keep finding awesome new follow memes for the week. The first one I found is: Friendly Friday Follow. The RULES to join in Freindly Friday Follow are very simple!
Grab the button above
Add your link to the list below
Visit as many other blogs as you can
Follow the ones you like (and comment on their blog to say that you are following)
The second is Social Parade Follow on Fridays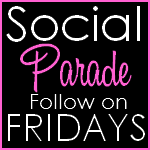 So, if ya like what you see, follow me and I will follow you back!