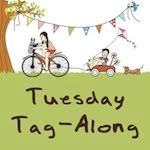 Does this ring a bell to anyone? That is a quote from Jessie Spannow on Saved by the Bell. It's the episode where she gets addicted to caffeine pills then misses their big girl group debut. :)
What brought on this flashback you ask? I recently found out some pretty flippin awesome news. Since I started blogging, I've been hearing tons of talk about blogging conferences. To be honest, I'm pretty jealous that I don't get to go. I keep telling myself some day I will make it there. I've almost gotten over it.
But, some things have changed. I'm not going to New York or anything, but I have good news. I recently came accross a tweet from
iatraveler.

. She said that she wanted to create a website that promotes travel to Iowa (that's where I live). I thougth cool, I respond saying that I'm from there. A few mentions later I found out that she is speaking at a bloggin conference right here in Iowa!
When I found out, I was about ready to hit the hay. Once I heard her news, there was no way I was going to sleep. This is what I've been waiting for since I started blogging a few months ago.
The event is called
I Blog. Do U?
It's in Perry, IA which is by Des Moines. It's super doable for me because I'm only a few hours away. It runs from November 5th to November 7th. I already requested that 5th off from work! LOL. I just hope I can go. I probably won't be able to get the funds until September, so I just hope that tickets are not sold out. I really think I will be devasted if I can't go. But, I'm holding out hope that they will not be sold out by then and I can make my blogging dreams come true!