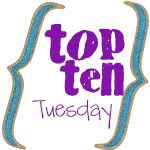 I've decided that this week, my top ten will be my top 10 favorite things.
1. Most of all, my family is my favorite. I'm a daughter, a sister, a mom, a girlfriend, and an aunt. My family means so much to me and wouldn't be where I am without them.
2. My puppy. Okay, he's not a puppy, he just turned 5 over the weekend. I had to beg and plead with my boyfriend to let me get him. So, I waited until he was out with his friends to ask again. I knew he'd have a couple of drinks in him. That's when I went in for the kill. He finally agreed on the condition that he would get to name him. Done!
3. My computer/internet. I'm a computer geek. My first degree is in computer programming. Need I say more?
4. School. I have always loved school. Mostly, I liked the friendships. I also liked the learning part. I'm currently on my 3rd degree. I will say that I went away to college to the U of Iowa. I didn't do well, I concentrated more on the friendships and local bars then I did on school. I now have my priorities in order.
5. Work. I've posted a couple of times about a certain coworker. Overall, I love working and I love my job. It just really sucks when one person has to ruin that for me. I've had some sort of job since I was 12. I love earning money and spending it....LOL
6. Trashy celeb magazines. I don't buy them, but a girl at work does. Every week. I know that I will never look or live like them, but a girl can dream, right?
7. My cell phone. I don't make many calls. I have 450 minutes, I bet I use 100. I will text before I call. I mostly use my phone to surf the net, download apps and play games.
8. Glee. I can't say enough awesome things about this show. LOVE IT!
9. My bed. I could never sleep past 8am. Omg, what I would give to sleep past 7am. Jack is programmed to wake up by 7am. Every day. When do they start to sleep in? Someone please tell me.
10. Naps. What goes best with a bed? An afternoon nap. I could never take naps. My Mom would have to force me to lay down. I didn't enjoy naps until I went to college. The best is a Saturday afternoon nap. The only day I won't nap is on Sundays. I call it my, "No Naps on Sundays" rule. If I nap, I can't go to bed until late. That can be sucky when it's 6 am on Monday morning.
Check out more Top Ten Tuesdays @
Oh Amanda